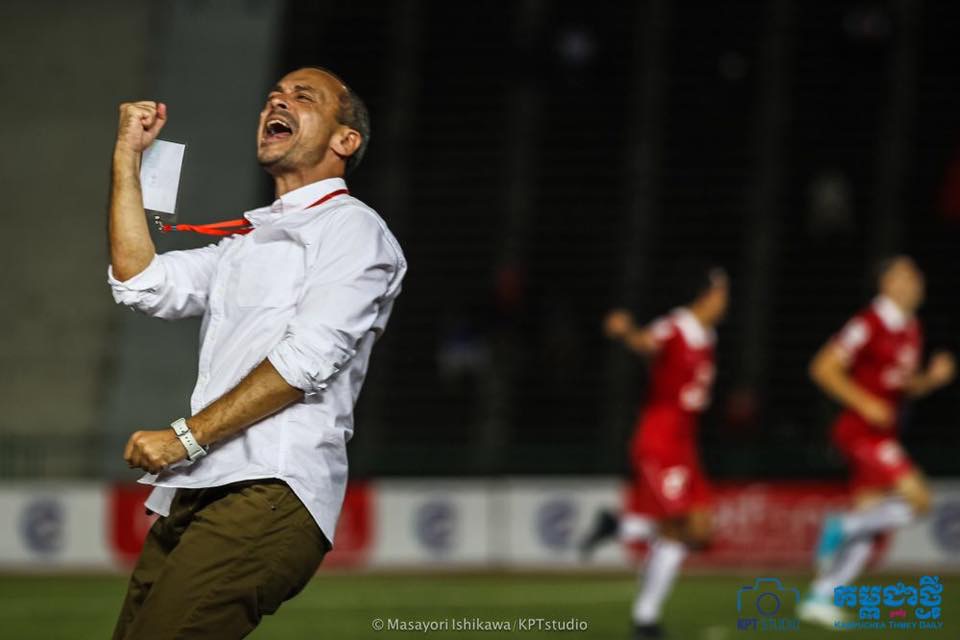 Youth Development Football Coach in Thailand
In 2012 Sean Sainsbury moved to Thailand from the UK to take up the role of Academy Director at Muangthong United FC. He had previously worked in the UK for both Crystal Palace FC and Fulham FC youth academies and coached players such as Wilf Zaha and Victor Moses. Muangthong United FC were at that time considered one of the two biggest clubs in Thailand along with Buriram United FC.
Over the next three and half years Sean would work as Academy Director, Technical Director and Reserve Team Head Coach at Muangthong United FC. In 2014 the first of his academy graduates made their way into the 1st team. His name was Singmui Suriya and he quickly made himself a regular in the starting 11. During the 2014 season Sean took over coaching the clubs reserve team and during a one and half year spell in that role at the club he coached the likes of Phitiwat Sukjitthammakul, Sivakorn Tiatrakul, Chaiyawat Buran, Pitcha Autra, Peeradon Chamratsamee and Wattana Plainum who have all gone on to become senior national team players.
Muangthong United FC academy has continued to be a conveyor belt of players in to the top league in Thailand. Under the guidance of Sean as either Academy Director of Reserve Team Head coach more than 25 players since 2014 have gone on to become players in the top league of Thailand if not for Muangthong United FC then at other top flight clubs after being sold or loaned.
In 2016 Muangthong United FC made the decision to sell off or loan out their best young players so they could buy more experienced Thai players in the hope of winning the league. Chiang Rai United bought four of Muangthong's best young players, Phitiwat Sukjitthammakul, Sivakorn Tiatrakul, Chaiyawat Buran and Singmui Suriya and the money used from that sale allowed Muangthong to buy the likes of Theerathon Bunmathan and Charyl Chappuis amongst others and in the 2016 season Muangthong United were crowned Thai League champions.
However, the selling of these players to Chiang Rai United might be something Muangthong later regretted as Chiang Rai grew from strength to strength and Muangthong have not won a league title since that 2016 season. In 2019 Chiang Rai United were crowned Thai League champions with the players signed from Muangthong being integral to that success. Phitiwat Sukjitthammakul was named the league's MVP for the 2019 season and what seemed like a lot of money spent by Chiang Rai United a few years ago now seems like a bargain with Muangthong United FC academy playing a big part in winning the league for Chiang Rai United.
In October 2017 Sean moved to Cambodia to take over as 1st team Head Coach at Phnom Penh Crown FC. He was tasked with letting the senior players at the club leave at the end of the 2017 season and promoting from the academy. Of his 26 man 1st team squad in 2018, 20 were teenagers. With the club's owner having seen Sean's background in developing young talent big things were expected. The team finished a respectable 5th place in the league in 2018 under Sean's guidance but more importantly the clubs young players had the exposure required to make the next step. Twelve of that squad have gone on to be capped at senior national team level whilst still in their teens with a number becoming regulars in the national team starting 11.
In 2019 Sean was offered the position of Reserve Team Head Coach at Buriram United FC who are now clearly established at Thailand's number one club. His first task was to take the clubs U19 players through the Coke Cup which is the biggest youth tournament in Thailand. The regional qualifying round took place in Sisaket and Sean's team won all 4 games without conceding a goal to qualify for the quarter finals. Sean's team successfully beat Chiang Mai FC in the quarter final before beating Assumption Thonburi FC in the semi final and were crowned champions after beating Chonburi FC in the final. Sean now has the Coke Cup to add to his impressive CV. Has Sean established himself as the most successful youth coach in Thailand and Southeast Asia in recent years?