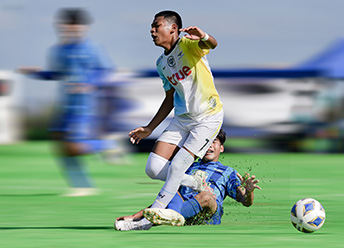 Football Asia Is Back
After a couple of years of inactivity due to Covid, Football Asia are happy to be back up and running. Our first event since before Covid and the travel restrictions was in December of 2022. The first year of our elite 11 aside tournament, the Siam Cup was a huge success as we bought some of the best youth teams from Singapore and Thailand together for a 3 day tournament. 
The ethos of the Siam Cup is to bring elite level youth teams together from different countries to play competitive matches against teams with different physical attributes and playing styles. Through our connections in Thai professional football we hosted this tournament at the best football facility in Thailand on world class pitches. Organised to the highest standards with referees from Thai professional football, onsite ambulance and medics and plenty of water and ice to make sure players stayed well hydrated.
In year one of the Siam Cup we had three age groups with Buriram United champions in the U13 category, Chonburi FC champions in the U14 section and Bangkok United champions at U15's. All three age groups came down to results on the last day with games closely contested and the teams from Singapore giving a good account of themselves.
In December 2023 we will be organising the second year of this event with teams from far and wide showing interest in joining. We have spoken to some of the best teams from Australia, Singapore, Hong Kong, Saudi Arabia, Malaysia, Indonesia, Cambodia, Malta and Denmark who have all expressed an interest in joining at different age groups. 
The 2023 version of the Siam Cup will be at four different age groups, U13 to U16. Buriram United are committed at all four age groups to represent the best of Thai youth football with four teams per age group from other countries allowed making each age group a 5 team tournament based over 5 days. We will provide updates of entering teams as we select the best possible teams from those interested in joining this event.
In November 2023 we will also be organising a grass roots 7 aside tournament for U9 to U12 age groups. Having previously organised this event for Thai teams over the last couple of years the 2023 version will be the first year that we invite teams from overseas. This weekend tournament will provide teams with an action packed weekend of football. We only allow 8 teams per age group to make sure the event isn't rushed and teams get the attention from our staff they deserve. 
Each age group will have 4 Thai based teams and four teams traveling from overseas. We are co organising this event with Buriram United and the Siam Cup Soccer 7's will be hosted at the clubs Bang Bo Training Camp just 15 minutes from Bangkok's international Suvarnabhumi airport. This amazing football facility conveniently located makes for an exciting weekend of football.
For more information about any of our tournaments please go to our Tournaments page or feel free to contact us via email or WhatsApp if you have any questions.