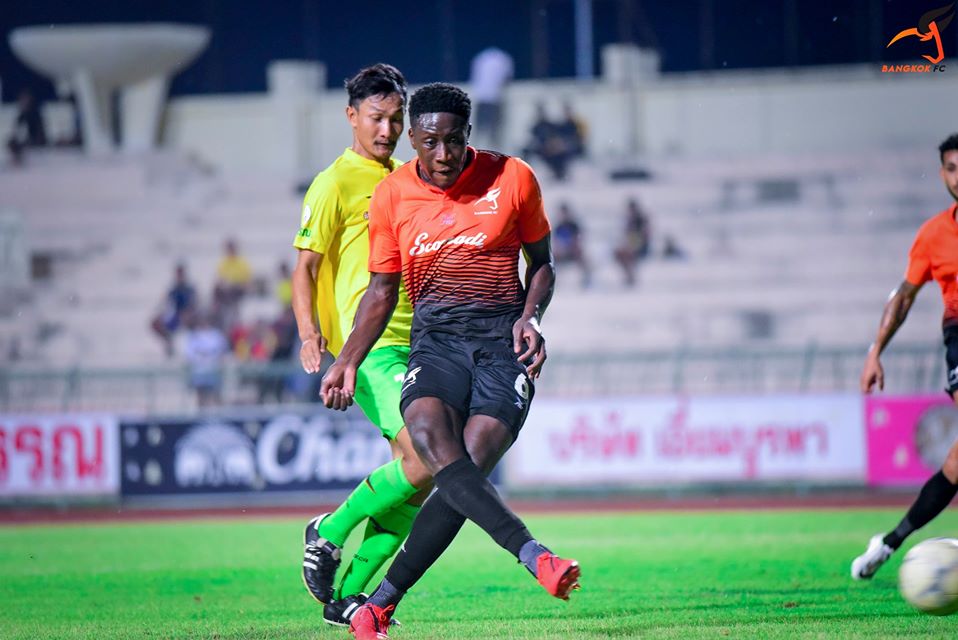 Getting signed in Thailand from Europe
Mamadou Fofana from France had been playing football in the lower leagues of France and England for a number of years. In 2018 he made the decision that he wanted to play in Asia before his career finished. As he had just turned 30 it was now or never and he got in touch with us at Football Asia through LinkedIn. He ended up signing for a team in the Oman but after a few months there the club he signed for had financial problems and he got back in contact with us and came to Thailand to take part in our December 2018 training camp.
He stood out with his physical presence, technical ability and knowledge of the game and we knew straight away we could find him a club. At the end of the training camp, Bangkok FC showed an interest and we sent him there to trial with the team. After two days training with the team he was offered a contract which he signed the following week before heading back to France to get everything sorted out for his stay in Thailand for the 2019 season.
Upon his return to Thailand he got stuck into preseason training with Bangkok FC and we kept in contact with him to make sure he was settling into the team and life in Bangkok. Mo as he is commonly know had settled in really quickly and became a popular figure in the team. One of the big adjustments to football in Thailand is the more relaxed approach to life here, which translates to more relaxed people. Football in the UK is very different and very aggressive and social adjustments from the UK to Thailand is normally one that players fail to get over.
Mo was laid back around his team mates offering encouragement and staying away from the blame culture that clouds football in other parts of the world. It is this reason that he was quickly accepted as a team mate and a big reason why he had a successful season in 2019 for Bangkok FC. In the 2019 season Bangkok FC finished 5th in their league falling away towards the end of the season after looking like they could challenge for promotion in the middle of the season.
When players contact us about our training camps and trials we always do a back ground check into their football ability. We don't accept players unless we think they have a good chance of getting signed to a club here. Once we have made the decision the player has a chance to play professionally in Thailand we then arrange to speak to the player on the phone and we explain the process of how we work. We are always honest about the players chances of getting signed and what level of salary they can expect.
We make sure we provide players with as much information as possible, allowing them to make the correct decision. We want everyone who attends to feel they have been treated properly and thats why we have success. We also make it clear about the cultural adaptations players will need to make to be successful here and even after they are signed we stay in contact to offer support when it's required. Mamadou Fofana is one of our many success stories.